Spinal Decompression in Visalia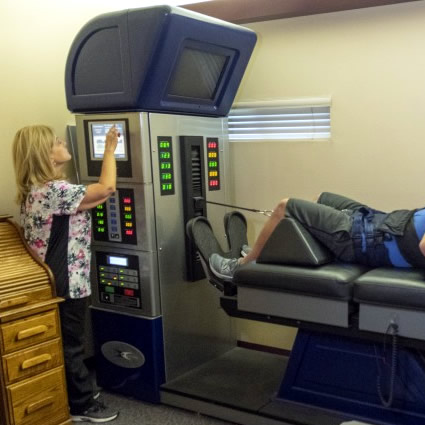 As a chiropractor in practice for decades, Dr. Shows takes pride in offering his patients the best possible care-and one of the modalities we're most proud to offer patients is spinal decompression on our DRX 9000 table.
This therapy is designed specifically for patients experiencing back pain relating to disc issues-and we're happy to say that it has a success rate of more than 80% when it comes to relieving and correcting chronic issues.
Here's how it works!
How Does Spinal Decompression Work?
Over time, our spines experience wear and tear, whether it's related to injuries, repetitive motion, or simply not taking care of our bodies.
Disc issues are one of the major causes of back pain, and can happen when they slip out of alignment, become pinched, herniated or dehydrated.
Using our DRX 9000 table, we're able to restore proper function and alignment to your discs in relaxing 30-minute sessions. You'll simply lay on our decompression table as it gently stretches and moves your spine, allowing your discs to function how they were designed.
This modality isn't just designed to relieve pain, but to vastly improve your quality of life. While the needs of each patient are unique, we generally recommend a course of 20 sessions over a six-week period for optimal results. In addition to spending time on our table, you'll likely receive electrical muscle stimulation to help aid in your healing-at the end of the day, we want to employ all techniques possible to help you feel better, quickly.
Schedule Your Visit
If you're wondering if you're a candidate for care, we'd love the chance to speak with you and learn more about your health goals. From there, Dr. Shows will put together the perfect care plan for you, designed to bring you out of pain and into wellness as effectively as possible.
Learn more today when you book an appointment-we can't wait to welcome you into our care.

Spinal Decompression Visalia, Tulare and Handford CA | (559) 734-1921