Physical Therapy in Visalia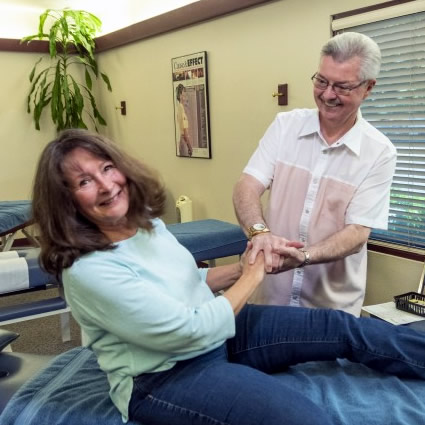 Physical therapy is available at Shows Chiropractic as a complement to chiropractic care. Dr. Shows directs this care to speed up your healing process. We understand that you require individualized solutions to your particular health concerns. Our patients' care is always customized, never cookie-cutter.
If we feel physical therapy or rehabilitation is appropriate for you, we'll explain exactly how it can help you. We ask that you wear comfortable clothes. All charges will be discussed upfront.
An Array of Modalities
We offer the following therapies:
Ultrasound – This type of heat therapy uses sound waves to alleviate deep pain in soft tissue, including muscles, tendons, ligaments and joints.
Electrical therapy (Russian stim, interferential current, muscle reeducation current and muscle stim) – The mild currents used in this therapy target muscles or nerves. The therapy can help to reduce pain, improve muscle function and reduce inflammation.
Intersegmental traction – This therapy, which is given on a special table, which helps to mobilize the spinal column while gently stretching muscles and ligaments.
Hydromassage – With this type of massage, water pressure is used to address muscle and soft tissue injuries.
LLLT – This modern therapy utilizes a low level light therapy to target various conditions.
Recover Faster
Most of these solutions are designed to promote relaxation and reduce pain and muscle spasm. Along with chiropractic adjustments, these options can help you recover quicker, saving time and money.
Schedule Your Appointment
Contact us today to schedule a FREE Consultation andExamination (a $250 value). The consultation is designed to let you and us understand HOW you got the way that you are. The exam also can help us find out what is working and not working to find out WHY you feel the way that you do.
Early and late hours are available for your convenience.
CONTACT US »

Physical Therapy Visalia, Tulare and Handford CA | (559) 734-1921