About Us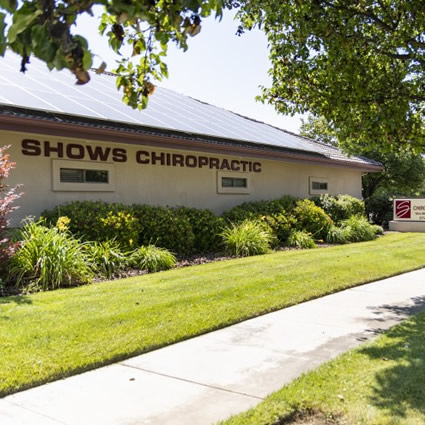 Offering real health without drugs or surgery.
In practice since 1981, Dr. Michael Shows has established an excellent reputation in the community. "I guard my reputation like a pit bull," he said. His patients respect him and know that they'll get the results they're seeking.
A Warm Oasis of Healing
When you walk into our cheerful practice, you'll quickly know you've come to the right place to begin your journey to health and wellness. You'll feel encouraged and listened to.
If you are not getting good results, we stop and find out why. I'm here to make you feel better and not to hurt you, our treatments are relatively painless.
Our Practice Philosophy
At Shows Chiropractic, we take a whole-body holistic approach to health. The brain is the master controller of all body functions. The brain communicates with the rest of the body through the nervous system. When there's no interference in that communication, the body can function like it's supposed to.
MEET DR. MICHAEL SHOWS »
It may sound strange, but pain is your friend. Why? It lets you know that something is wrong. It's similar to the red light that comes on the dash of your car. Ignore that light and your car could break down. Similarly, if you ignore pain and just cover it up with medication, your health will suffer.
When you malfunction, dis-ease begins. Over a period of time, dis-ease turns to disease. Then at some point, your body will produce one or more symptoms that let you know that something is wrong. A symptom could be stomach pain, respiratory problems, twitching in the eye or something else. If your body is under mechanical stress, it can't function normally.
Unfortunately, most people will wait until their health deteriorates before doing anything about it. Smart people take their car in for regular service to reduce the likelihood that it will run bad. You should do the same thing for yourself! It is so much easier to prevent something bad from happening than it is to fix it once it has.
Someone may say that they have "normal" everyday headaches, but it's not normal to have a headache every day. That person may say that their headaches go away when they take pain relievers. Dr. Shows' reply: "So you're trying to tell me that you have headaches because your body is running low on pain medicine? That's like putting air in a tire that has a hole in it. You're just covering up the symptom and not addressing the problem."
Here, we'll address the cause of the problem and let your body do what it was designed to do ever since you were created—heal itself!
From the youngest patient of one day old to the oldest patient of 102, people of all ages can get highest quality natural health care at our clinic. Here is a memorable success story.
Help for epileptic seizures
Many years ago, a young husband and wife brought their children in for care when they were infants. The husband got transferred and the family moved back to Texas. Dr. Shows got a call about six months or so later. The couple was panicked as their son was having epileptic seizures. The child was taken to a doctor who said that the couple's son would have to be on seizure medication for the rest of his life.
Dr. Mike asked the couple if they took their son to a chiropractor near where they lived. The dad indicated that they did, but that the chiropractor didn't feel that he could help. So the couple flew back to Visalia to see Dr. Shows. After taking X-rays, he could see that the infant's head wasn't properly aligned on the neck. "The spine and head were in two different zip codes," said Dr. Shows. He adjusted the child twice a day for three days and the little boy, now a dad himself, hasn't had another seizure.
Book an Appointment
Contact our office today to schedule your complementary Consultation and Exam!

About Shows Chiropractic | (559) 734-1921