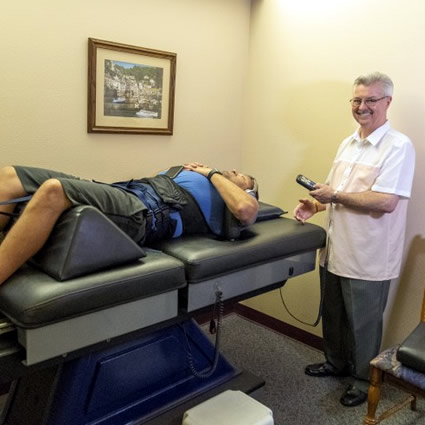 Dr. Shows recently celebrated his 40th year as a chiropractor in Visalia and he loves it just as much as he did the day he first opened his practice.
Over the years, many things about the world have changed-and even some aspects of chiropractic.
We'd like to let our patients know about the biggest differences we've seen over the last four decades.
1. Technology has improved tremendously. Just like the outside world has experienced incredible technology advancements, the chiropractic world has as well. 40 years ago, we couldn't have had a spinal decompression table in the practice-but today, we're proud to-and our patients are thankful!
2. We're able to offer more custom care with the computerized adjusting instrument called the Impulse IQ. It's called the IQ because it's smart. It allows us to adjust patients without the "cracking, popping and body contortions. Since we have more tools than ever before, each patient's care is unique to their specific needs, which greatly adds to their healing experience.
3. People are more open to natural health-and that's a good thing. As natural wellness, exercise, and eating correctly become normal, we're seeing more and more patients turn to chiropractic instead of choosing surgery or pain medication.
4. Our success rate has improved with time. We're proud to now say that our services work to restore balance in the body and spine for about 90% of the patients we see. We think that's pretty amazing!
Here's to the next 40 years of advancement!
We'd Love to See You Soon
If you're in need of a chiropractic adjustment or spinal assessment, we're here for you. Contact our team today to book a visit-we can't wait to welcome you into our care.